From IT professionals to UX designers, TechBirmingham thrives through its immensely talented and diverse group of member companies. Meet the Board is an ongoing Q&A series highlighting this group of movers, shakers and makers in Bham's tech industry. 
Say hello to Chad Ballard, Director of Mobility and New Digital Business Technologies at BBVA Compass. A lifelong native of the Magic City, Chad has been working at BBVA Compass for 13 years. Read on to get to know more about one of the latest additions to our Board of Directors.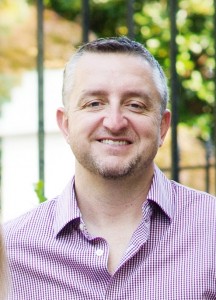 Hey there, Chad! Let's dive right in — Tell us more about your job.
I'm responsible for the technology strategy and development of mobile applications and the pursuit of new digital business strategies. New Digital Business includes the development of internal/external prototyping, digital acquisitions and strategic partnerships.
An average day for me is very active! Lots of meetings and collaborations with many internal and external partners throughout the day.
What do you think is the biggest misconception about your field?
One of the biggest misconceptions of my field is just because I'm in banking doesn't mean I'm a banker. I have worked for a bank for 13 years, but I'm far from a banker. I was a developer out of high school and was originally pursuing a degree in engineering. So, I have always had a passion for technology and I'm very passionate about the banking industry and the opportunities it has with digital transformation and innovation. Banking is such a great industry for technology.
Another major misconception is that people believe banks don't develop software or create innovation. The chairman of BBVA recently was quoted that "BBVA will be a software company in the future". I do believe this is true. BBVA is the most innovative bank, I have ever seen and develops its own technology like a software company.
It sounds like you really love your job!
I do. I was originally part of Compass Bank and have been through every part of our transition to BBVA Compass. So I have a real appreciation for what BBVA has meant to the transformation of banking in the US and a real appreciation for what BBVA has meant to the city of Birmingham.
But of course you have to find some time to unwind. What do you do for fun?
I love to play golf and exercise and have become an avid runner over the last 5 years, participating in half marathons. I also love to travel and enjoy spending time with my wife Tiffany, our 6 year old daughter Isabella, and soon with our new baby Catherine (on the way in June)!
One last question — How do you feel about Bham's tech scene?
I believe Birmingham is a hidden gem just waiting to be better exposed in the U.S.
Regarding strengths, Birmingham is strong in Finance (Banking) and Healthcare. It also has great restaurants that are known both locally and nationally. The craft beer market is picking up as well! There are also some great local staffing companies. Birmingham is also becoming much more diverse in its culture which adds a lot of value to the growth of the city. Overall, this is really helping Birmingham to grow in the last 5 years. I have a lot of friends who are transplants from another state and most are initially skeptical about coming to Birmingham but 100% of them are sad when they have to leave it!
Regarding weaknesses, Birmingham's tech scene is lacking in the latest industry skill sets (mobility, cloud, open source, etc). Birmingham also lacks a lot of local talent to hire from. The great local staffing companies have to go out of Birmingham to find that talent. So, if we can improve the technology scene in Birmingham, we can attract more local talent to stay in the city. Also, Birmingham has some biotech, but is lacking in strong fintech companies. I think improving the tech scene can really increase Birmingham as a scene for Innovation which will naturally increase these industries.
Well said! And if we want to learn more, where can we find you online?
I primarily use LinkedIn in my day to day. I'm also on a number of other social platforms (Facebook, Twitter, etc). However, I don't spend a lot of personal time in them as I just stay too busy to stay continuously engaged! I use them a lot in development of new technologies as it amazing how powerful social engagement is in today's world.