Guest post by Anita Turner – Colliers International
Touring some of the powerhouse tech firms in San Francisco might open your eyes to some new management strategies.
What are the big guys in tech doing with their office space and what can I learn from it?  In an effort to answer this question, I recently found myself walking ten miles a day for a week in San Francisco, the epicenter of the technology culture.  I made a wish list, got on the interwebs and ultimately secured tours of Yelp, GitHub, Ripple, Wired, Pandora, Airbnb, LinkedIn and Pinterest.
Through visiting all of these companies, I learned how the giants of technology have hacked their offices to foster productivity and innovation and the easy, cost-effective hacks you can learn from them to promote creativity and collaboration.
As I toured these eight spaces, four common themes emerged: open plan, team/collaboration/quiet rooms, fresh air and green spaces and amenities.
Every single space I toured was completely open plan.  All of these companies believe that open plan promotes open communication.  As a result, offices and cubicles are non-existent.  Instead, all seating is bench and much of that is free-address.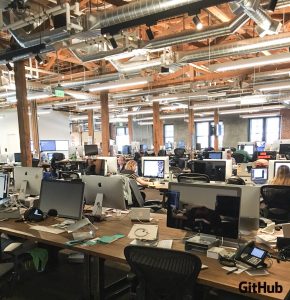 While encouraging collaboration is vital, these companies also recognize the need for quiet spaces and confidential meeting areas.  I saw everything from phone booths with carpeted walls at Airbnb to a hidden speakeasy at Github to a Quiet Room with a bunk bed at Pinterest.
Granted, my tour took place in San Francisco where summer heat is not an issue, but many of the spaces I toured included well-utilized roof decks, operable windows and living walls to provide employees access to fresh air and outdoor spaces.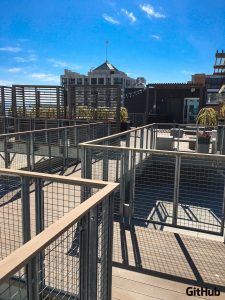 The abundance of amenities seen on my tech tour had me green with envy.  LinkedIn provides a 3-meal-per-day food service to its employees, all organic and locally sourced.  The rumored cost: $7K per year per employee.  Similarly, Airbnb, Pinterest, GitHub, Pandora, Wired and Yelp provide full food service to their employees.  Many also provide fully-stocked bars or in Pinterest's case, a rolling bar cart that can travel to the party.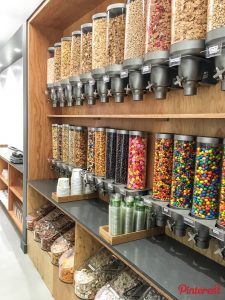 Despite the common themes, each space was memorable for its distinct personality.  All of the offices were designed to clearly reflect their companies' unique cultures.  For example, many of Pinterest's walls were plywood so they could be "hacked" or "crafted" by Pinterest's employees to themes or looks of their choosing.
LinkedIn embraces "connection" so it built connection spaces in the common areas of every floor.  One such area is a silent disco with twenty sets of headphones on long cords mounted to the wall so your team can listen to the same song and have a dance party together. Another has a San Francisco parks map where employees can post selfies taken at those parks.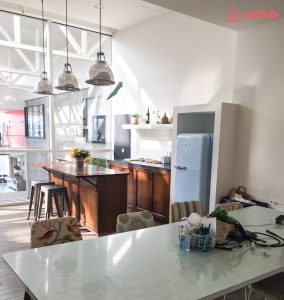 Airbnb is all about hospitality so their conference rooms and common areas are modeled after popular Airbnb listings around the globe: a Parisian kitchen, an Airstream trailer, a Japanese tea room and many more.  It is impossible to lose sight of the mission if you work in this space.
So what can your company (especially start-ups) do to reap some of the benefits of open plan, collaboration, etc, if you don't have access to LinkedIn's cash?
Define and focus on culture.
Spend your money on non-public spaces cosmetically (more paint and artwork; less construction).
Or don't spend it on your space at all; spend it on your people. They can take those with them when they grow and move.
Focus big spending on conference areas and public spaces.
We represent tech tenants and can help you and your company understand your space needs, incorporate the lessons above and build a flexible plan that will accommodate growth and contraction in your business locally and across the country. Please reach out if you need some help.
View more blog posts by visiting TechBirmingham's full blog.