Sloss Tech is just around the corner. This year's rendition of Sloss Tech will be showing off all that the tech industry has to offer while also providing a productive environment for the tech community to network, collaborate, and see everything that the Birmingham tech scene has to offer.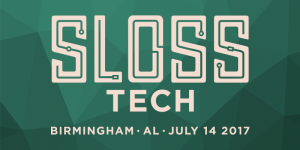 Last year's Sloss Tech was a huge success. With this year's Sloss Tech, TechBirmingham and Telegraph Creative, a Birmingham digital marketing agency, are proud to present the featured speakers Casey Neistat and Tiki Barber. Together with more than 20 years of success in the tech industry, these two entrepreneurs will shed some light on the latest in the tech scene.
Casey Neistat started making a name for himself early on with a film career at age 20. He has gone on to direct many more films including advertising commercials and short films. He also has seen huge success on YouTube with nearly 7.5 million subscribers doing vlogs and other short films. He also started a video sharing app along side Matt Hackett called Beme.
Tiki Barber was a running back for the New York Giants in the NFL. After his retirement he co-founded Thuzio in 2012, a company that provides a platform for companies to find celebrity talent, develop marketing strategies, and networking opportunities.
Additional speakers include: Bill Smith, founder of Shipt, and Will Pearson, founder of Mental Floss, and Dr. Julian Maha, founder KultureCity, and Liz Pharo of Momentum.
There will also be live music and food. Each ticket allows a catered meal provided by Zoes along with drinks and a pop break provided by Frios. The Birmingham Mountain Radio host Will Lockamy will be Sloss Tech's DJ with Mayor Bell as Sloss Tech's emcee.
An after party known as Light up the Lyric provided by Spectrum Enterprise and Cahaba Brewing will take place at the end of the day. This party presents great opportunities for networking and collaboration. A few of the speakers from the day will be present at the party as well.
From my personal perspective as the intern at TechBirmingham, I am incredibly excited to hear Casey's point of view on the tech industry. As a millennial, I can say that having Casey as a keynote speaker is a strong way of reaching the younger crowd. Reaching the younger crowd has always been a tough question for many companies. Combining Casey's appearance with the Sloss Fest Music Festival will make make Sloss Tech a pivotal event for Birmingham's tech economy. Over the past few years, Sloss Fest Music Festival has been a huge attraction in the Birmingham area, putting Birmingham on the map for music fans across the state. Paring with this festival has potential, according to experts, to make Sloss Tech one of the strongest avenues of promotion for the tech scene in Birmingham.
View more blog posts by visiting TechBirmingham's full blog.