TechBirmingham thrives through its immensely talented and diverse group of member companies. Meet our Member Companies is an ongoing Q&A series highlighting this group of movers, shakers and makers in B'ham's tech industry.
Meet AlanJones,Director of Security Services for Layer 3 Communications. He was born and raised in Birmingham and has been with Layer 3 Communications for 18 years. Read on to learn more about Layer 3 Communications and the great things they are doing in Birmingham and beyond.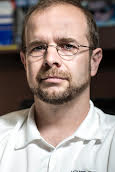 Hi Alan! Let's get started — Tell us more about Layer 3 Communications.
Layer 3 Communications is a value added reseller specializing in data networking and security. The truth though is that we're a professional services organization masquerading as a reseller. I've been in the business for almost 20 years and this is the best all around technical team I've ever worked with. Sometimes its seems like we specialize in difficult problems. We generally work in the data networking space, so that means we're primarily focused on the connections between systems, rather than the systems themselves. That can mean routing, switching, or wireless as well as application delivery and (my favorite) security. Our people take a consultative role, meaning that anything we do with our clients is a real solution to their problems rather than an opportunity to close a sale. Our security team works in vulnerability assessment, penetration testing, security architecture, and security as a service. In all of those disciplines, our team is constantly learning, growing, and improving their understanding of the current threat landscape.
What do you think is the biggest misconception about your field?
The idea that consultants and VAR's don't add any value is a pet peeve. Technology is a bit of a "wild west" industry in which to work, and it lends itself to individuals who are looking to make a quick buck at other people's expense. Most of us work hard, provide a good service, and want what's best for our clients.
What exciting news or product/service announcements does your company have on the horizon?
Layer 3 Communications offers extensive managed security services to our clients. This means that if an organization lacks dedicated security personnel, we can monitor their data networks for intrusion on a 24/7 basis out of our security operations center.
How do you feel about B'ham's tech scene?
The tech scene in Birmingham is small. It seems like everyone knows everyone else. That can be a good and bad thing, depending on how good you are at your job! Our biggest strength here in the city is our educational institutions, and the talent that they generate. Our colleges turn out some sharp folks! Our biggest weakness is that many organizations still undervalue their technology personnel. Until technologists in the area can earn equivalent salaries to their peers in Tennessee and Georgia, we won't see the growth in the area that we'd like.
Anything else about you or your company you want us to share?
I love talking about information security and believe that those of us in the industry should be talking more about it to those who aren't. I'm always open to talking about security, whether it is over a cup of coffee or speaking in front of an audience.
Thanks so much for sharing, Alan! 
Follow Layer 3 Communications and Alan online here:
www.layer3com.com
LinkedIn: https://www.linkedin.com/in/robertalanjones
Twitter: https://twitter.com/alanjones19
View more blog posts by visiting TechBirmingham's full blog.