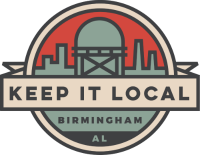 Keep It Local Mixer being held at Innovation Depot on February 8th from 5:00 – 7:00 pm.
TechBirmingham and Innovation Depot invite TechBirmingham members, Keep IT Local pledge signees and local IT product and service companies to join us at Innovation Depot on February 8th for a networking event to promote synergy and business opportunities between local technology companies and large corporations.
Paul D'Andrea of Wind Creek Resorts will be delighting attendees with some of his most sumptuous creations. Chef Paul plans to treat Keep IT Local to a night of food tasting and will even share his recipes and what inspires his cooking.
The purpose of the Keep IT Local Pledge initiative is to create an accessible platform to showcase commitment from local companies to look first within our city and surrounding areas when procuring IT products and services before spending those IT dollars outside the region. Working collaboratively with industry, TechBirmingham, Innovation Depot and local IT leaders led the effort to craft a pledge and create a digital presence where companies on both the demand and supply side can show their support by digitally signing the pledge.
Tony Summerville, CEO and founder of Fleetio, shared his thoughts on the initiative, "Keep IT Local boosts our startup community by helping early stage technology companies find paying customers in Birmingham. The networking events are a great place to connect with organizations that are committed to using local vendors, spurring activity and ultimately growing our startup scene."
Organizations who sign the pledge are recognized here.  TechBirmingham maintains the database of companies who sign the pledge and will be able to provide information on the services and products those companies offer. There are currently twenty companies participating in this pledge, covering industries such as cloud services, business development, software development, staffing services, security and consulting firms with the hope that more companies will make the pledge soon.  If you are interested in signing the pledge on behalf of your company or organization, sign up here.
This an invitation only event. In addition to experiencing some great food, come ready to network with local IT product and services companies, decision makers, and corporate buyers in a casual setting. Register for the event here. Email info@techbirmingham.com for registration password.
If you are interested in attending, please contact our office at 205-918-7515 or info@techbirmingham.com
View more blog posts by visiting TechBirmingham's full blog.