E.Builders shines a light on Birmingham's rural entrepreneurship, millennial founders and ecosystem support, as keys to its economic development successes
Birmingham, AL.  This week, 28-29 September 2017, Birmingham will host the International Association of Business Innovation (InBIA)'s annual Ecosystem Builders Forum, or e.Builders Forum.  The event will be held at Innovation Depot, one of the nation's largest and most successful business incubators serving the Appalachian region.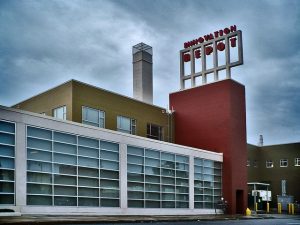 This year's e.Builders will celebrate Birmingham's successes in building vibrant ecosystems of support for a new wave of entrepreneurs by highlighting several of the city's key initiatives.  Innovation Depot and TechBirmingham, the founders behind Birmingham's Keep IT Local pledge initiative, will take center stage in revealing some of the pains and gains behind the community collaboration.
"Keep IT Local", a theme inspiring this year's event, has provided a content-rich agenda focused on Birmingham's collaborative community ecosystems, how they addressed various challenges, and the learning points behind these efforts.  In addition, other programs like Sloss Tech, an event focused on attracting millennials to the magic city and showcasing Birmingham's startup and tech community, and Innovation Depot's recently launched Velocity Accelerator program will be discussed an models for community building. Bringing in many of the key players and entrepreneurs involved, Innovation Depot's President & CEO Devon Laney and TechBirmingham's President & CEO Jennifer Skjellum will share what went into building their collaborative efforts and facilitate a panel of key players within the ecosystem.
In addition, e.Builders will highlight Birmingham's 2016 ranking as the #1 city for Millennial Founders in every session.  Specifically, how communities can better incorporate the "Founders Generation" and why it's crucial to the success of any ecosystem.  Millennial Founders, as well as those who attract and retain them, will offer keen insights and secrets for building them into the rural entrepreneurial landscape.
Friday's line-up includes a full day of concurrent sessions facilitated by topical experts, leading dialog on the pressing concerns advanced industry professionals are facing in the southeastern U.S. and in rural communities with regard to supporting entrepreneurs and attracting and retaining the resources needed for continued growth.  These sessions are designed to allow Business Incubator Networks (BINs) in sector-specific groups, the opportunity to directly connect with peers who are in similarly focused programs and offer a forum to exchange best practices.
InBIA's annual e.Builders Forum typically takes place in emerging U.S. cities and shines a spotlight on rural and economically disadvantaged areas that are often overshadowed by more prominent entrepreneurial ecosystems and the coastal tech hubs. The Forum is well suited to institutions and individuals involved in all types of entrepreneurial and commercialization programs, economic development officials, public-private ventures and community collaborations, as well as those looking to build or strengthen existing rural ecosystems.  To register, please visit – https://inbia.org/ebuilders.
+++++++++
Innovation Depot is the epicenter for technology startups and entrepreneurs in the Birmingham region. A nonprofit organization operating in partnership with the University of Alabama at Birmingham, Innovation Depot is home to over 100 startups employing over 800 individuals. Through its programs, Innovation Depot gives entrepreneurs a competitive advantage in attracting customers, talent, mentors, press and funding to grow their business, with a current five year economic impact of over $1.4 Billion on the Birmingham region.
TechBirmingham is a nonprofit membership tech association focused on growing the technology ecosystem and innovation economy in the Birmingham region.
InBIA is a global nonprofit that represents over 2,200 entrepreneurship support organizations. For over 30 years, InBIA has remained the leader in providing the best industry resources for building thriving entrepreneurial ecosystems through sustainable entrepreneurial programs across a wide scope of industries and disciplines.
View more blog posts by visiting TechBirmingham's full blog.