Originally posted from Startup Southerner on August 16, 2017.
On Friday, TechBirmingham will open its fourth annual Innovation Week, which has evolved from a three-day event in 2014 to 10 days of programming this year. We talked to Jennifer Skjellum, president of TechBirmingham, to discover what readers need to know about this event—and what it says about the growth of the Magic City's tech scene.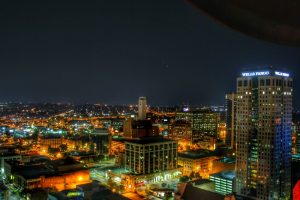 What does the growth of this event say about the growth of tech startups and innovation in the city?
Several of the events this year are new and signal the maturation of our tech and startup community. The energy in the community is palpable and this year's programming is a culmination of many years of build-up, persistence and the commitment from all the partners to bring the best event possible to showcase Birmingham's strong innovation/tech/startup ecosystem.
Anything you're most looking forward to or is most unique about the event?
The Solar Eclipse Viewing Party at Southern Research is going to be a lot of fun and a one-of-a-kind event. We also have a few new events that stand out: Magic City Hacks, a hackathon hosted by Women Who Code Birmingham, a program featuring tech innovation in hospitality (a growing sector in Birmingham) imerge, the EDPA 2017 Innovation Awards at Alabama Theater, and of course TechBirmingham's TechTuesday in partnership with SideWalk Film Festival focused on VR.
If this is someone's first time attending, what advice do you have for them?
Dive in. The barrier to entry is low since most of the events are free and there are events during the day and at night.
You announced that you're stepping down as president of TechBirmingham in October. Looking back, what are your proudest accomplishments for you, the organization and for the city?
I took the helm of a failing organization with an important and relevant mission and in a short period of time built it up to over 250 member companies who are actively engaged in the tech scene and represent diverse backgrounds, companies and focus areas.
Although there is always more to do, we have been successful establishing TechBirmingham as the hub for the tech community, inspiring collaboration, enabling connection and cultivating tech talent to move our city forward.
The kids coding programs are important for the future of our city and the work we have done to introduce kids to STEM and specifically inspire and motivate young girls to learn to program will probably be the most impactful in the long run.
But the two events I helped bring to Birmingham, the Alabama Cyber Now Conference and Sloss Tech, are my proudest accomplishments. Both were great in the first year (2016) but we really knocked it out of the park in 2017 and significantly elevated Birmingham's reputation for hosting cool tech-focused events.
How would you describe Birmingham's tech scene? What is it's biggest strength?
Birmingham's tech scene is varied, evolving and over the last three years we have seen the maturation of early-stage companies like AtlasRFID, Fleetio and FreeTextbooks, to name a few, into international companies with customers around the globe. We have a number of companies focused on healthcare IT, a variety of consumer services, data and analytics, cyber security and software development. At the corporate level, we have seen the banks and large employers in the region steadily increase the number of employees in IT, software development, big data and analytics and systems integration.
The number of startups in the tech space, and startups in general, has steadily increased. More starts in conjunction with the cultural and lifestyle renaissance we are experiencing has set the stage for Birmingham's emerging tech and startup scene to really take off.
One of the strengths of our city is accessibility. For the most part, entrepreneurs can easily access mentors, more experienced entrepreneurs, potential clients and C-level executives. The corporate community is committed to helping startups, early-stage companies and small business make the local connections needed to engage, partner and potentially conduct business with the corporates. Keep IT Local is an initiative started in 2015 as a way to codify the process of doing business locally when possible.
What about the greatest challenge facing Birmingham's tech scene?
One of the challenges is the lack of talent—both technical talent and seasoned business acumen. This shortage is a constant struggle for companies of all sizes and although not unique to Birmingham, is something that many organizations in the ecosystem identify as a top priority.
Your announcement about leaving TechBirmingham also said you're moving to Chattanooga, which has its own thriving tech scene. Are you excited to become a part of that? Or do you think you will be moving in a different direction professionally?
I have lived happily in Birmingham for 14 years and have developed a strong network of friends and business relationships which I am sad to be leaving. I have also been fortunate to do some good work in the community and develop my capabilities which I hope to be able to use to have a meaningful impact in Chattanooga, whatever my career path is. So far Chattanooga has been very welcoming and in an ideal world I will be involved in something exciting and cool by the start of the year.
View more blog posts by visiting TechBirmingham's full blog.