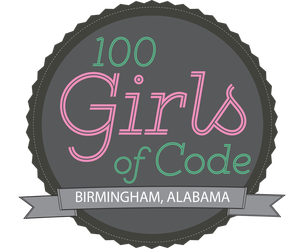 On Saturday August 8th, 40 girls between the ages of 10 and 17 gathered at Birmingham's technology incubator, Innovation Depot, to learn more about computer science, video game programing using  Scratch, the importance of using logic when telling a robot to make a peanut butter and jelly sandwich, and how Kathy Pham, part of the White House's U.S. Digital Services group became a programmer in college and how she went from working at Google to the White House.
The Birmingham chapter of 100 Girls of Code was formed  in June and we quickly received emails from over 60 volunteers looking to help the organization achieve the goal of offering free web development and programming workshops to 100 girls, or more, a year, in the Birmingham region.
The August 8th event was the first one offered in Birmingham and was part of a national event, Girls Day of Code, which included simultaneous events in 7 states, as well as Ireland and Costa Rica.  The workshops were live-streamed via WebEx and the girls got to see other girls programming in cities and countries like Atlanta, Portland, and Costa Rica at the same time they were building their video games.
The 20 volunteers that helped make the day a success work for local companies like CTS, BBVACompass, IBM,Leapfrog Systems, Malcovery Mspark,Regions, Viperline Solutions to name a few. One volunteer even drove from Huntsville to participate.  Not all the women who volunteered are developers, but all share one passion in common, inspiring girls to reach their full potential and show them how learning to program can expand their opportunities.
All programs are led by female software developers to help show young girls what they can do if they are interested, and to raise awareness about the career opportunities in tech available to them when they get older.
ITAC Solutions provided computers for girls who did not have their own as well as sponsored the event, providing each girl with a t-shirt, a certificate and a workbook.
The next workshop is planned for October 3rd and will be at the McWane Science Center. Our goal is to get at least 100 girls there for a full day (8 am -4 pm) workshop focused on video game development and web programming. Click here to register for the Oct. 3rd event!
View more blog posts by visiting TechBirmingham's full blog.