Member company Bham Now is celebrating their one year anniversary. Read on to learn more about Bham Now and the great things they have done and will do in Birmingham.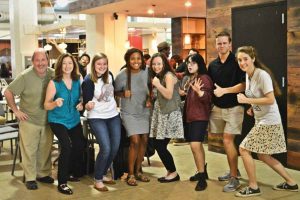 Some of the Bham Now team: From left to right: Pat Byington, Cindy Martin, Hunter Holland, Vicky Lewis,
Jen Daniel, Liz Brody, Wade Cline, Kristina O'Quinn.
1. What are some of the biggest hurdles you've faced this past year of running Bham Now?
Bham Now is a a whole new media concept for Birmingham.  This means we have to educate our clients on what we're doing and how we're different from traditional media, even how we're different from traditional digital media.  Marketing is no longer about a website.  It's about the message (or the content if you will) and how you convey that message to your audience.
Oh, the other challenge in how to pronounce our name.  We're Bee-ham Now, not Birmingham Now.  We think 'Bham' is more fun and personal like our business.
2. What has been your proudest achievement of operating your organization?
The speed of our audience growth has been surprising and reaffirming.  Bham Now reaches over 130K unique visitors a month on our site and over 300K on our social channels.  We estimate our market opportunity to be 500-600K (about half of the greater Birmingham population).  So, attracting 20% of our market pie within the first year is good, we think!
3. Tell us the story about the "Bearded Man" image.
We wanted an icon for Bham Now to represent the modern Birmingham.  Everyone knows Vulcan and associates the Iron Man with the Magic City.  But, we wanted a new take on Vulcan.  We also didn't want to get into royalty issues with the city.  So, we hired Min Sun Lee, a local artist to give us a modern rendition of Vulcan.  We think the teal bearded guy resembles a Hipster Vulcan or perhaps any guy hanging out in our local pubs.
4. If you met someone with no prior knowledge of Birmingham, what would you say to win them over to our city?
Birmingham is unique.  After following my career from to Orlando, New Jersey and San Francisco, I made my way back home to Birmingham.  Birmingham has the most wonderful people.  I love how you run into people you know when you go grocery shopping or to the art museum.  It gives you a sense of continuity and of being part of something bigger than yourself.  A single individual can make a big difference in Birmingham.
5. What's next for Bham Now? What can readers expect to see in the coming year and beyond?
Bham Now will continue to cover the topics that our audience, the millennial-minded people of Birmingham, want to know about.  This includes start-up businesses, technology, arts, nature and fun things to do.  We will continue to grow our audience, social reach, in-person events and serve our very important clients who want to connect with the Birmingham market.  For our clients, Bham Now will make our 'sponsored' content entertaining, informative and fun!  We believe that sponsored content should be as desirable as non-sponsored content.
View more blog posts by visiting TechBirmingham's full blog.