TechBirmingham thrives through its immensely talented and diverse group of member companies. We asked member company Telegraph Creative to fill us in on one of their areas of expertise, virtual reality.
Seth Griffin is Creative Director at Telegraph Creative, a five year old creative agency in Birmingham. We asked Seth to tell us about recent advancements in the world of virtual reality. Read on to learn more!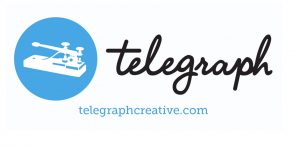 Hi Seth! Let's get started — Tell us more about Telegraph Creative.
Telegraph was built on branding. It's in our DNA, and we know that building a great brand requires having consistency in your story. But the real secret sauce for connecting with consumers in today's content driven world, is telling the same story across many platforms without losing that consistency.
Tell us more about virtual reality. What does it mean? Why should we care about it?
Virtual reality (VR) is one of the most impactful forms of storytelling we've ever seen. True 3D 360º VR is about as close to teleportation as it gets and the ability to immerse your audience in a story is going to be extremely valuable to brands. With industries like travel or architecture, you can put your potential clients right in the places or structures you are promoting.
For sports, music and other entertainment industries, fans can get exclusive access like never before. VR also opens up a world of possibilities for journalists and educators when it comes to giving people easy access to the most remote corners of the world without ever having to leave the safety and comfort of their homes or classrooms.
What do you think is the biggest misconception about VR?
Many people still think VR is either inaccessible, over complicated, or too expensive. In reality, with options like Google Cardboard and the prevalence of smart phones, VR is extremely affordable and accessible. And as far as being too technical or complicated to understand, it's quite the opposite. My 5-year-old daughter and my 93-year-old grandmother have both tried, and love, Oculus Rift VR experiences and it's literally as intuitive as breathing.
What are some changes in this industry?
While VR content and goggles are fairly accessible now, one huge hurdle with VR is the lack of options when it comes to VR cameras and content making equipment. If you aren't a professional film maker, it's really difficult to get access to the few high end options out there, like Jaunt. There are options, like the Nokia OZO, but they can run upwards of $45,000. GoPro also offers options, but can be extremely complicated because of the need to sync more than a dozen cameras at once. I fully expect the number of VR cameras on the market to increase rapidly and the cost to decrease significantly. When that happens, the market will be flooded with VR content from brands and the earliest adopters will be a step ahead of the rest.
Talk about the recent ad access in VR and how those will change the marketing industry.
If you think about VR in advertising currently, you probably think about watching someone else experiencing VR. Whether it's Gatorade showing kids experiencing what it's like to bat like Bryce Harper, or Expedia and St. Jude's Hospital showing what it's like for kids in the hospital to escape through Virtual Reality, it's more of a "watch them experience VR" play on advertising. While it's very impactful to see other humans experiencing VR and associate their joy with a brand, I believe as VR adoption grows, it will be the experience itself that brands go after.
Anything else about you or your company you want us to share?
Telegraph is already using and creating VR content for our clients, but we have really just scratched the surface with the possibilities. We're extremely excited to explore new ways to leverage this technology in the future.
Thanks so much for sharing, Seth! 
View more blog posts by visiting TechBirmingham's full blog.